Back
News > News Article
08 July 2022
FODO member update – 8 July

This week:

High levels of satisfaction with primary eye care in the UK

The General Optical Council (GOC) has published its 2022 public perceptions research, again providing strong evidence that public satisfaction with primary eye care remains high. This year reporting that "94% of respondents who had had a sight test/eye test in the last two years" were satisfied with their last visit to an optician/optometrist. 87% of respondents also said they were satisfied with the protections to protect them from coronavirus during their last optician visit.

In more positive news, more people than ever reported they would see their optician/optometrist practice first if they woke up with an eye problem. The increase continues a trend seen in GOC surveys over time, with more patients changing their behaviour and seeking help from primary eye care rather than a GP or hospital.

The research however highlights regional differences, with people more likely to visit an optician/optometrist practice first if they live in Scotland (51%), Northern Ireland (45%) or Wales (42%) compared to England (27%). The trend is expected given the range of extended services that the NHS has commissioned in Scotland, Northern Ireland and Wales, which have been in place longer than in England.

Almost half of the survey respondents also said they would consider undertaking their sight test or eye examination remotely.

The full report is available on the GOC website.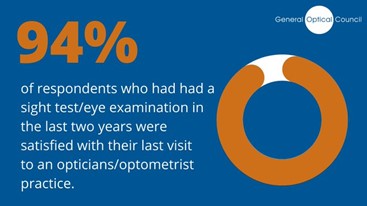 GOC consultation 10 days remaining
With just 10 days left to respond to the GOC consultation, the FODO policy team has now shared a draft of its submission with members who volunteered to take part in this phase of our response.

Dan Hodgson, FODO UK head of policy and public affairs, said: "We've seen a high level of engagement across the sector on this consultation, showing just how important it is. Members agree that the Opticians Act continues to serve patients well. It is clear from looking at the evidence, the Act remains a robust piece of patient protection legislation which has stood the test of time whilst enabling safe adoption of new technologies, care models and changing scope of practice".

The consultation closes on 18 July; the FODO submission will be published once submitted.

If you have specific questions with, or are interested in, the consultation's content, you can still contact us until 13 July by emailing [email protected].

Ophthalmology continues to struggle in England

The Royal College of Ophthalmologists reports that "nearly 600,000 people were waiting for ophthalmology treatments in January 2022, the largest waiting list of all NHS specialities, and around 10% of all those on the referral-to-treatment pathway". The president's note also calls for more action to reduce this backlog to reduce the risk of avoidable vision impairment. Read more.

GOC publishes updated illegal practice protocol

The GOC Council has updated its illegal practice protocol following a public consultation. One of the main changes includes greater clarity on when the GOC will consider a prosecution by outlining the specific factors it will assess.

Responding to feedback, the GOC has also amended the protocol to include the potential for serious harm in addition to actual harm. Read the GOC's full response to the consultation on the Consultation Hub.

Covid update

Members should note that with increasing Covid infection rates in some regions, local NHS teams might advise you to temporarily increase IPC measures, including universal masking, to help reduce the local transmission rate.

College guidance B39 advises using surgical face masks where there is a public health requirement to use one. Therefore, if local public health contacts you to implement stricter IPC measures, you should follow this guidance locally.

NHS England, Midlands, has already written to primary care practices asking them to review College guidance B39. The College said: "Other areas in England may receive similar local guidance in the coming days". Read more.

Welsh Eye Care Digest

The optometric adviser for Wales has said contract reforms in Wales aim to move "to a clinically appropriate service model that is based on prudent principles and aligns to 'A Healthier Wales' and the seven wellbeing goals of the Future Generations (Wales) Act." He added: "Legislative changes to General Ophthalmic Services, Eye Health Examination Wales and Low Vision Service Wales will enable diagnosis, treatment and management of a wider range of eye conditions in primary care and underpin the necessary coverage of optometry services within each cluster to enable all aspects of contract reform."

Read more in Welsh Eye Care Digest.

Claim CET grants - England

You can claim CET grants of £596 through PCSE between 1 July 2022 and 31 October 2022. Read more and make a claim. If you have any questions, please email us at [email protected].

GOS vouchers values increase in Scotland

NHS optical vouchers in Scotland have increased from 1 July 2022. You can download the latest values from the Annex in the latest PCA. The PCA also includes other updates, so FODO advises members in Scotland to read it in full.

Sector partners and we will shortly be issuing Vouchers at a Glance for Scotland. If you would like printed copies, please email [email protected].

Other sector news

Scottish Optical Conference 2022 bookings are now open. See the complete track information and booking form.

NICE has published its evidence-based recommendations on nerve grafts for corneal denervation.

The College of Optometrists has updated how it shares its Clinical Management Guidelines. In addition, following a survey, the College has included a contents list to improve accessibility and other updates to improve user experience. Read more.

BCLA is looking for an 'inspirational' new deputy academic chair to shape a world-leading educational programme. Learn more.

Health policy updates

NHS England has thanked optometry and ear services teams for their work in supporting the NHS.

On 1 July, 42 ICSs were established across England on a statutory basis.
Integrated Care Boards (ICBs) that manage ICSs, have assumed delegated responsibility for primary care. Of those, nine ICBs are taking on delegated responsibility for one or more pharmaceutical services, GOS, and dental services. This does not change GOS, as a new standard delegation agreement manages these nationally agreed contracts.

The Medicines and Healthcare products Regulatory Agency (MHRA) has published the government's response to the Future Regulation of Medical Devices in the United Kingdom Consultation. This will mean zero-powered contact lenses are treated the same way as powered contact lenses as they carry similar risks.

This week, the health secretary and ministers (and many others in government) resigned. Steve Barclay is now health secretary in the PM's caretaker government. Before the mass resignation, the NHS Confederation had said DHSC and NHS England were 'refreshing' the 2019 Long Term Plan. However, with an interim government, it is unclear whether a refreshed document will be published soon.

These documents describe NHS England's approach to oversight of Integrated Care Boards (ICBs) and trusts for 2022/23. See the NHS Oversight Framework page for more detail on the oversight process.

NHS England plans to reduce staff by 30-40% whole-time equivalents, reducing 20,000 employees by 6,000-9,000, according to the HSJ.

NHS in England backs a "digital revolution to bust Covid backlogs and deliver more tailored care for patients". The support included £2 billion from the spending review to help digitise the NHS and social care sector. However, given events in Westminster this week, it is not yet clear what changes will now happen.
Stay up to date
Subscribe to
our newsletter
Get eye sector updates directly to your email inbox by signing up to our newsletter.
Press enquiries
Media enquiries should be directed to [email protected] or call 020 7298 5151.
We are happy to put you in touch with our expert policy advisers who can comment on a variety of issues.